Our awning grade solution dyed acrylic patio umbrella canopies carry a 10 year warranty against fading!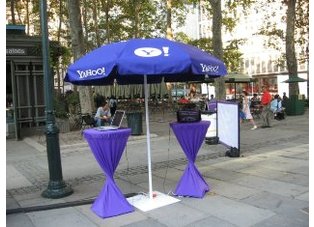 You can choose from a large selection of awning-grade fabrics for the canopy of your patio umbrella at Umbrella Source! Sunbrella and Outdura fabrics are guaranteed not to fade for years! Awning-grade umbrella fabrics come with a 10-year basic warranty against fading and loss of strength
Need logos on your patio umbrellas? No problem, all of our custom patio umbrellas and market umbrellas have the option of being customized with your company logo or phrase. Most of our patio umbrellas, except the cantilever or sidepost umbrellas, can be customized with logo imprinting. You will see the option if it is available when you are building your custom patio umbrella.
As shelter and shade from rain, wind and sunlight, your choice of a patio umbrella represents a long-term investment in personal enjoyment! Patio umbrellas are our economical series of umbrellas. They are lightweight and easy to set up. All of our patio umbrellas (sometimes called garden umbrellas) are custom made to be enjoyed as poolside umbrellas, outdoor patio umbrellas or shade umbrellas for virtually any outdoor application!
Crank & Tilt Umbrellas
Crank and tilt patio umbrellas are popular for their ease of use. Many of these patio umbrellas open and close with a convenient crank located on the pole. The handy tilt option allows you to maximize shading potential throughout the day!
Pop-Up Umbrellas
A Pop-up patio umbrella functions like a hand-held umbrella and many are available with the tilt option.