Custom 7.5 ft. Sunbrella Wood Market Umbrella
Umbrella frames come in either Manual Tilt, Crank & Tilt or No-Tilt
The diameter of the umbrella pole.
The number of panels on the umbrella
Single Fabric
Single Fabric means you are choosing to only use one fabric color on your entire umbrella.
Alternating Fabrics
Alternating Fabric means you are choosing to use alternate fabric colors on every other panel of the canopy.
SunbrellaAwning
SunbrellaAwning
Product Information
Canopy Span: 7.5' Octagon
Canopy Fabric: Sunbrella Awning Grade
Height: 92"
Head Clearance: 71"
Opening System: Single Pulley Lift with Brass Pin
Pole Material: Solid Ramen Wood
Pole Diameter: 1½"
Rib Material: Solid Ramen Wood
Rib Thickness: ¾"
Sunbrella awning grade fabrics feature a 10-year warranty against fading and loss of strength. This warranty does not cover normal care and cleaning or damage from misuse or abuse.
Assembled Dimensions:
99 × 90 × 92 inches
Shipping Dimensions:
59 × 8 × 8 inches
Approximate Shipping Weight:
25 pounds
Ships within:
This item is currently out of stock.
Shipping:
Calculated in Cart
Carrier Select:
You have the option to use your own freight carrier. Call
800-278-4480
to take advantage of this option.
Accessories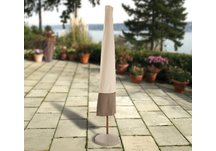 $27.53
Others Also Purchased