Commercial Beach Umbrellas
Products
(2)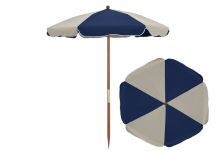 Multiple Colors
Spiked Hardwood Pole
Fiberglass Ribs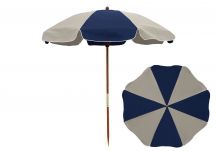 Multiple Colors Available
Spiked Hardwood Pole
Fiberglass Ribs
Got Questions?
Let Us Help.
800-278-4480
M-F 8:30am - 7:00pm EST
The iconic Beach Umbrella is a must-have for coastal activities. While closely related to patio umbrellas, beach umbrellas feature a spiked base for convenient setup in the sand. Browse our Sunbrella awning grade fabrics and choose the color that best suits your application! Our commercial beach umbrellas feature hardwood poles and fiberglass ribs. Fiberglass ribs will provide the flexibility these umbrellas will need to withstand windy environments on the beach. The commercial-grade beach umbrella is essential for your business, hotel or restaurant setting.
Visit our residential beach umbrella page for pre-styled beach umbrellas. These umbrellas are not intended for commercial use, but still feature an awning grade canopy with a 5 year warranty!