Umbrella Buying Guide - Choosing the Right Umbrella for You
Whether you are looking for a market, patio, or beach umbrella, Umbrella Source can help you choose the right custom outdoor umbrella. All of our umbrellas, including our custom and quick ship umbrellas, are commercial-grade to ensure exceptional durability in any application. Our umbrellas are constructed of long-lasting Sunbrella®, Recacril®, and Outdura® 9 oz. awning-grade acrylic fabric canopies and heavy-duty, commercial-quality aluminum, fiberglass, or wood umbrella frames.
At Umbrella Source, we offer several ways to customize your umbrella. We provide options such as your choice of umbrella size and shape, frame material, fabric color and brand, logo printing, and opening system. We want our customers to feel confident in their umbrella purchase so we have provided a list of points to review before choosing your patio umbrella:
Types of Umbrellas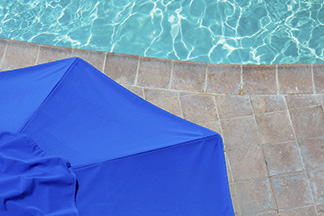 Our most popular umbrella, the market umbrella, features a clean, sleek appearance without a valance. Market umbrellas are typically used at restaurants, cafes, and resorts as well as in personal home outdoor living areas. All of our market umbrellas are offered with durable aluminum, fiberglass or wood frames with a crank or pulley opening system. We also offer your choice of an eight panel octagon or four panel square. Our residential market umbrellas come with an optional tilt mechanism for the ultimate sun protection.
Patio umbrellas feature a rounded canopy with a hanging valance. Much like our market umbrellas, our residential patio umbrellas come with pop-up, pulley or crank opening systems with optional tilt. Both residential and commercial patio umbrellas come with your choice of aluminum or fiberglass poles with steel or fiberglass ribs. Our custom patio umbrellas will look great for years whether on your restaurant patio or by the pool.
Beach umbrellas provide ideal sun protection for long days by the shore. Our beach umbrellas feature sturdy wood poles with steel or fiberglass ribs that are crafted to withstand strong winds and humidity. Both commercial and residential beach umbrellas are distinguished by their poles which have a pointed end spike for easy setup in the sand. Each of our beach umbrellas feature a convenient pop-up opening system. These are the same quality umbrellas the beach umbrella rental companies use. Want your name or logo on a beach umbrella? Give us a call today!
Our commercial grade umbrellas are ideal for your business, restaurant or other commercial application. Commercial Umbrellas are constructed with heavy-duty aluminum center poles and fiberglass ribs for durability. They come standard in silver or white frames only.
Logo umbrellas are essential for promoting businesses and products. We provide state-of-the-art logo printing with PMS matching available to ensure exact logo colors. Unlike silk screening, our superior heat-bonded logo printing is extremely durable and carries a 3-year warranty. For more information on logo umbrellas, be sure to check out our Logo Umbrella Buying Guide.
Cantilever umbrellas, or offset umbrellas, are practical additions to patios and other outdoor spaces. Because cantilever umbrellas have a pole and base that is attached to the side rather than the center, they allow for various dfcopy;cor and furniture arrangements. Our cantilever umbrellas provide 360 degree rotation with multiple tilt positions for personalized shade. These umbrellas typically feature larger canopies that supply greater sun protection.
Need an umbrella in a hurry? Our quick ship program provides customers with a commercial-quality patio, market or beach umbrella within 5-6 business days. Our quick ship umbrellas feature RECASENS 9 oz. awning-grade solution-dyed acrylic canopies with a 10-year manufacturer's warranty. These umbrellas also have commercial-grade umbrella frames with your choice of tilt and opening system.
Umbrella Sizes
When choosing an umbrella size for residential or commercial use, it is important to measure how much room is available for the application. Patio umbrella sizes typically range from 5.5 ft. to 11 ft. The larger the umbrella, the more shade it provides. When choosing a large umbrella, be sure the table and umbrella base can accommodate the umbrella pole. We also offer large structural umbrellas that offer permanent installation options. It is important to know that structural umbrellas do not break down for shipping and storage like their smaller counterparts due to their one-piece poles.
Fiberglass Frames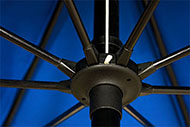 Our fiberglass umbrellas are some of the top selling products at Umbrella Source due to their strength and resilience in windy situations. Commonly used in fishing poles and boats, fiberglass provides a versatile, non-corrosive material that is ideal for constructing umbrella frames. Fiberglass umbrella frames are incredibly wind-resistant and less likely to damage as they bend and flex in windy situations. These frames are extremely durable, yet lightweight, making them perfect for coastal environments or any commercial application. Our fiberglass umbrella frames are constructed with solid .750 diameter fiberglass ribs that allow for ultimate flexibility without cracking or breaking.
Aluminum Frames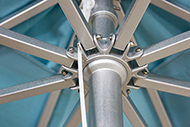 Aluminum Frame with Fiberglass Ribs: Our most popular umbrella frame. These frames are constructed of heavy-duty, yet lightweight aluminum poles with flexible fiberglass ribs. The aluminum and fiberglass frames are ideal for commercial use in windy environments such as pools and seaside resorts, but are also great for residential use as well.
Heavy-Duty Aluminum Frame with Aluminum Ribs: The high-quality, heavy-duty aluminum umbrella frames are perfect for commercial applications. These frames feature a thick aluminum pole and durable aluminum ribs with silver powder coating for additional protection from corrosion.
Aluminum Frame with Steel Ribs: Umbrellas featuring aluminum frames are our most economical umbrellas. These umbrella frames are lightweight with sturdy aluminum poles and steel ribs and are best suited for residential use.
Wood Frames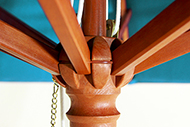 Wood Frame with Steel Ribs: These wood umbrella frames are made of solid hardwood with steel ribs. These are the most economical of all the wood frames and are perfect for beach umbrellas.
Wood Frame with Fiberglass Ribs: These umbrella frames are made with solid hardwood poles and fiberglass ribs, giving them more flexibility in high wind situations.
Wood Market Frame with Wood Ribs: These beautiful umbrella frames have solid hardwood poles and thick wooden ribs for a classic appearance.
Remember, the most important thing to extend the life of your umbrella is to always close the umbrella when not in use. Also be sure to store your umbrella in a safe place in the off-season and during inclement weather.
Umbrella Opening Systems
Pulley
Pulley opening systems open using a rope attached to a pulley system. The pulley is attached to the top hub of the umbrella frame. Once opened, a pin is placed into the frame to maintain the open position.
Pop-Up
The pop-up opening system features a spring-latch button or catch near the top of the frame. When the umbrella is pushed open, the latch springs out and locks into place which holds the umbrella open.
Crank
Crank opening systems have a handle on the pole that turns to open and close the umbrella. Although easy to use, these are not recommended for commercial applications.
Umbrella Tilt Mechanisms
Automatic Tilt
Automatic tilt umbrellas are easy to use, making them perfect for residential applications. Crank the umbrella open. When the umbrella canopy is fully open, keep cranking until the umbrella tilts to the desired angle.
Manual Tilt
Manual tilt, or push button tilt, umbrellas feature a button located near the top of the umbrella pole. When pressed, the button will allow the umbrella to be manually tilted to the desired angle.
Umbrella Valances
Umbrella valances are typically seen on patio and beach umbrellas as well as on pagoda umbrellas and some cantilever umbrellas. Valances are a continuation of the canopy panel that hangs for an extra decorative touch. Umbrella valances can be printed with logos or text for advertising and promoting brands and businesses.