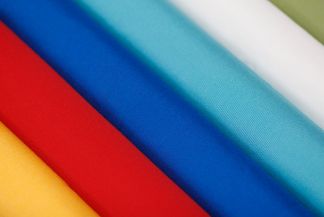 Sunbrella® awning is the premier fabric choice for umbrella canopies. Sunbrella® awning is a 100% solution-dyed acrylic fabric which means that the colored dye is added to the fibers while they are in a liquid state. Solution dying ensures the dye fully penetrates the fiber, producing fabric that easily maintains its color on either side. To create a water-resistant finish, Sunbrella® fabric is treated with a fluorocarbon finish. Compared to surface-dyed fabrics, solution-dyed Sunbrella® awning fabric will easily withstand harsh sun and rain exposure year after year.
Aside from its strength and color maintenance, Sunbrella® fabric also features several other benefits. Approved by the Skin Cancer Foundation, Sunbrella® provides exceptional UV protection. Umbrella canopies made with Sunbrella® awning fabric prevents skin damage caused by the sun's harmful rays. Sunbrella® fabrics are environmentally-friendly, producing no wastewater from its dying process. They can also be recycled.
In addition to its many benefits, Sunbrella® fabric comes in a wide range of colors to coordinate with your color scheme, creating a beautiful outdoor environment.
Sunbrella® is a registered trademark of Glen Raven, Inc.
Frequently Asked Questions
What is the warranty for Sunbrella® fabric?

Sunbrella® awning-grade fabrics feature a 10-year warranty against loss of strength or fading due to normal use. This warranty does not cover improper care, misuse or abuse.

Does Sunbrella® mildew or mold?

Mildew and mold can grow anywhere dirt builds up. If mildew or mold grows on your Sunbrella® umbrella, it can be easily cleaned with mild soap and water.

How often should Sunbrella® fabric be cleaned? What is the best way to remove stains?

Umbrella Source recommends hosing off your Sunbrella® umbrellas once a month to prevent mildew or stains. For cleaning instructions, check out our Sunbrella® cleaning instructions. Also see our Sunbrella® stain chart regarding stain removal.