Cleaning Sunbrella® Fabric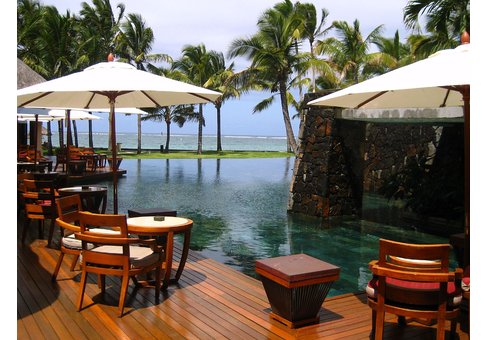 The best way to keep your Sunbrella® umbrella clean is to hose it off around once per month.
Sunbrella® fabric is fade-resistant and mildew-resistant, and rinsing away dirt before it builds up will keep your umbrella looking its best for years to come.
If bird droppings, pollen or other impurities don't wash off with a simple rinsing, we recommend you spot clean your fabric with a mild soap, such as Ivory Snow. Mild soaps will rinse with ease and will not weaken the fabric's water-repellent finish. It is important to use cold water when you are spot cleaning and always air dry your fabrics. Because Sunbrella fabrics do not retain moisture, they should air dry within a matter of minutes.
Note: Sunbrella® fabric should never be washed in a washing machine or dried in a clothes dryer.
Sunbrella® fabrics are very breathable due to their woven material. In addition, Sunbrella fabrics have a fluorocarbon finish that boosts water-repellency. After a thorough cleaning, the finish will need replenishment. If your Sunbrella fabrics are exposed to harsh elements regularly, you may want to treat your fabrics with a water-repellent formula.
Because Sunbrella® fabrics are acrylic fiber, they do not promote the growth of mildew when kept clean. However, mildew can grow on residue, such as dirt, they may be on the surface of your fabrics.
Stubborn Stains
For stubborn or large stains, rub a product, such as Greased Lightning, into your Sunbrella fabric to allow absorption. Afterwards, gently scrub the stain with a soft brush and rinse entirely to remove all residue. If needed, repeat until the stain is completely eliminated.
Tips for Removing Common Stains
For the most common stains, here is a list of recommended cleaning methods.
Use liquid detergent to remove tea, tomato juice, milk, raw egg, grape juice, gravy, soda, ketchup or mustard.
Use volatile solvent to remove butter, chewing gum, car grease, nail polish, remove oil and liquid shoe polish.
Use liquid detergent and white vinegar to remove urine, vomit and beer.
Use paint, oil or grease remover to remove lipstick, crayon marks, dried latex paint and oil or lacquer paint.
Use liquid detergent and ammonia with 3-6 percent water content to remove berry, dried blood and chocolate.
Use liquid detergent and water to remove orange soda and wet latex paint.
Apply a heated iron over towel and use volatile solvent to remove candle wax and wax shoe polish.
Use paint remover, volatile solvent or detergent to remove pen ink and mascara.
Vacuum then use liquid detergent to remove charcoal or pencil markings.
Use detergent, white vinegar, and volatile solvent to remove coffee.
Use oxalic or citrus acids and water to remove iron rust.
Use pine oil detergent to remove suntan lotion.
Use turpentine or liquid detergent to remove tree sap.
Use liquid detergent, water and white vinegar to remove watercolor.
Use liquid detergent or ammonia with a 3-6 percent water content and white vinegar to remove wine.