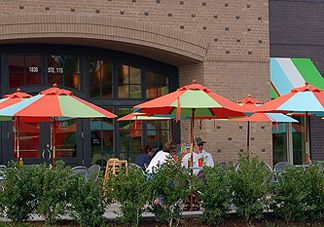 Commercial Solutions and Benefits
Umbrella Source offers several commercial solutions and benefits for commercial buyers that extend beyond our exceptional logo printing. With features like our Franchise Umbrella and Corporate Identity Programs, we are able to provide our commercial buyers with exactly what they need to complete their umbrella project.
Commercial Buyer Benefits
Purchase orders accepted from universities, public schools and government agencies based on minimum requirements
Volume discounts
Experienced and dedicated sales team with personalized customer service
Access to fabric books and samples upon request
Payment terms based on credit application
Pre-stocked umbrellas for franchises
Precise logo color matching via our PANTONE® Matching System
Thorough follow-up, communication, and completion of orders
Let us put our years of experience to work on your next commercial umbrella project. For questions regarding our commercial solutions and benefits, call our commercial sales team at 800.278.4480 or contact us online.
Credit Application
Fill out our credit application to apply for credit with Umbrella Source. Please submit your complete application to our commercial sales team by email at commercial@onlinecommercegroup.com or by faxing to 334.532.0912.