Beach Umbrella Information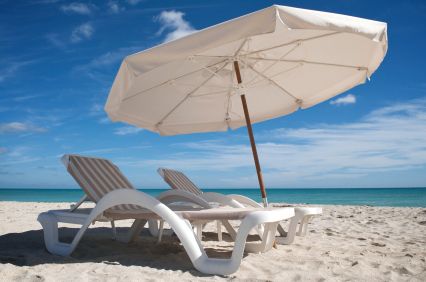 When planning a vacation at the beach, be sure to remember your beach umbrella!
Beach umbrellas are specially designed to reduce exposure to dangerous UV rays and to offer cooling shade in extreme heat. Beach umbrellas come with a special feature that not all standard umbrellas offer: a built-in spike at the end of the pole which allows for easy setup and adjustment in the sand.
Unlike the flimsy umbrellas you typically see at the beach, our commercial and residential beach umbrellas have durable wooden poles with fiberglass or steel ribs that are designed to stand up to the abrasive natural elements of the beach. Our beach umbrellas come in two sizes, 6.5' and 7.5', and are custom-made with your choice of Sunbrella® or Outdura® awning-grade, solution-dyed acrylic fabric canopies with solid or alternating fabric panels. We also offer optional logo printing for commercial beach umbrellas which is ideal for beach-side hotels and resorts.
Be sure to check out our commercial-grade Quick Ship beach umbrellas for last-minute beach shade protection!
Order a Custom Beach Umbrella