Lifeguard Umbrella Information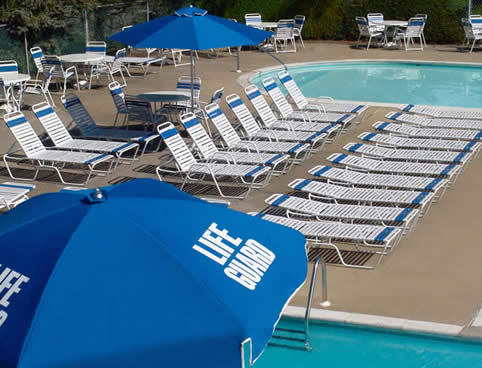 A lifeguard is an emergency service worker responsible for supervising the safety of those participating in a recreational water activity. This includes swimming pools, water parks and beach areas. In order to serve as a lifeguard, you must be a strong swimmer, qualified for water rescue and trained in first aid. The United States Department of Labor categorizes lifeguards as medical professionals.
While not overly demanding, lifeguarding requires constant awareness of any potential hazards. Lifeguards must make decisions quickly and maintain good communications skills. Lifeguard job tasks include water observation, rule enforcement, rescues and first aid distribution. Lifeguards will also file reports after accidents or injuries to ensure safe facilities.
Because lifeguards need to be visible, lifeguards typically wear a uniform consisting of red board shorts or a red one-piece bathing suit. Lifeguard umbrellas also increase lifeguard visibility. In addition, lifeguards carry distinct equipment, including a rescue float made of a rigid or soft plastic material.
Lifeguards watch their patrol area from elevated towers, tall lifeguard chairs, or they patrol the water's edge on foot. In some cases, lifeguards may also operate four-wheel-drive vehicles. Other lifeguard services may use a hulled patrol boat to provide additional support in emergencies. Rowboats and other specially marked watercrafts furnished with rescue platforms are also available to lifeguards to enhance response efforts.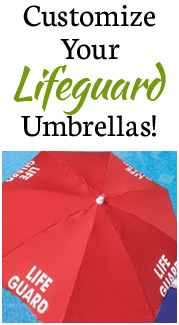 One or two lifeguards with access to a single tower typically patrol a specific length of beach. Lifeguard tower equipment includes a private telephone line used to communicate with a dispatcher and a well-stocked first aid kit. Additional equipment may include a large rescue surfboard, a resuscitator and diving equipment. Furthermore, a lifeguard vehicle or patrol boat will be equipped with two-way radios, cardiac medical equipment, an oxygen tank and advanced diving gear.
Lifeguards lookout for swimmers struggling, drowning, or afflicted with sudden medical conditions such as stroke, asthma, etc. Lifeguards use a system to categorize swimmers so hazards or problems will be noticed sooner. This system includes submerged, inactive swimmers who are struggling and taking in water, swimmers having difficulty swimming and normal swimmers.
Concerning public pools and water parks, lifeguards are employed privately by the facility's operators. However, in the case of the public beach, a public sector agency would employ lifeguards to serve the area. Lifeguards for inland bodies of water train differently than lifeguards for ocean areas.
In certain areas, lifeguards also perform land rescues or serve as the primary EMS provider.