Side Post, Cantilever & Offset Umbrellas
Learn about offset umbrellas, which are also called cantilever or side post umbrellas.
What is a side post umbrella, or offset umbrella?
Offset umbrellas are sometimes called side post umbrellas or cantilever umbrellas.
Instead of having a pole in the center of the frame, like most standard umbrellas, an offset umbrella's pole is located on one side. The umbrella pole holds the umbrella canopy from above the canopy, rather than from underneath.
The main benefit of a side post umbrella is that there is more room under the umbrella since the pole does not get in the way. Offset umbrellas can also be used to shade part of a swimming pool, since the side post can be mounted outside the pool.
At an average of 11' across, these cantilever umbrellas are generally larger than the average-sized umbrella. Some side post umbrellas include a tilt option, making them even more convenient. Offset umbrellas are beautiful and make a strong statement of style anywhere they are used.
Residential Offset Umbrellas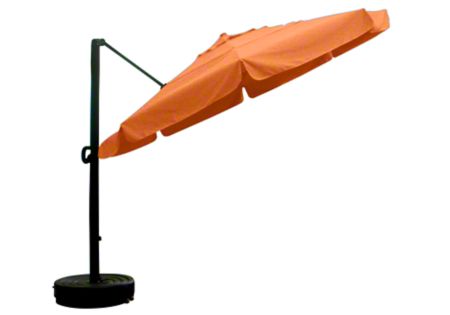 Umbrella Source's Residential Offset Umbrellas are great for your backyard, deck or by the pool. Due to the side post of these umbrellas, you can use any table in the shade, without needing a hole for an umbrella.
Residential offset umbrellas come with a 1-year frame warranty. These backyard cantilevers feature 100% solution-dyed acrylic fabric for the canopy, which carries a 5-year warranty against loss of fading.
Commercial Offset Umbrellas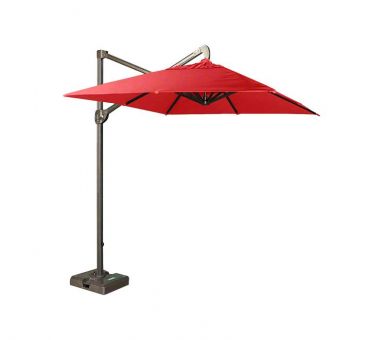 Commercial Offset Umbrellas are ideal for outdoor dining areas, resort pools, and other outdoor gathering areas.
Umbrella Source's commercial-grade side post umbrellas come with a 3-year frame warranty. The canopy features Sunbrella® fabric, which carries a 5- to 10-year no-fade warranty, depending on product chosen.
Some commercial side post umbrellas have the choice for alternating fabrics, and all have a 360-degree canopy rotation to provide shade wherever you need it.
Installation of Offset Umbrellas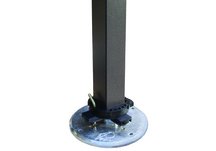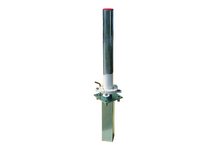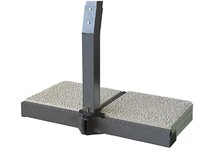 Installation of your side post umbrella will largely depend on the type of base the umbrella uses.
Residential cantilever umbrellas
feature a sturdy fill-able base that is portable, allowing you to move your umbrella when necessary.
Several bases are available for commercial umbrellas, depending on product chosen. The 10' Square Offset Umbrella features a base similar to the residential style. This base does not have to be installed into the ground.
The popular Rectangle Valance Umbrella has three base options (shown at right): deck mount base, ground insert base; and offset base.
The deck mount side post umbrella stand is designed to be installed into a sturdy surface, such as a deck or patio. This is a permanent installation option that will ensure your stand does not topple during harsh weather conditions.
The ground insert base must be installed underground. The most secure option, this stand is installed with concrete to ensure sturdy support of your offset umbrella. The installation is permanent and provides a sleek look to your outdoor area, with no clunky base getting in the way. Learn about how to install a ground insert base.
The offset base is a portable option for above-ground use. Much like an offset umbrella features the pole on the side of the canopy, the offset base has the base offset from the pole, rather than the pole being placed in the center of the base, as most standard umbrella bases work.
Care & Maintenance of Offset Umbrellas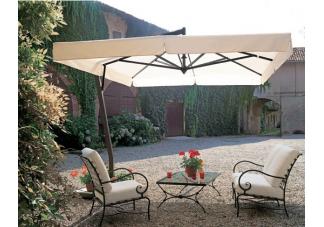 Offset umbrellas require very little to no maintenance. The sturdy frame is warrantied for 1-3 years and the canopy for 5-10 years. However, there are a few precautions you should take in order to get the most out of your side post umbrella and its warranty.
An inherent quality of Sunbrella® fabric is that it resists mildew. All it takes to prevent mildew growth is to hose off the canopy occasionally; once a month on average. Preventing dirt build-up with prevent mildew in Sunbrella® fabric.
It is recommended that you close your offset umbrella(s) when not in use. This decreases the risk of a sudden wind or careless individual causing damage to your umbrella investment. It also decreases the stress on the umbrella frame's ribs.
Like most umbrellas, it is highly recommended that offset umbrellas be taken down during high wind conditions and other severe weather. In these situations, the umbrella can be removed from the base for easy storage.
Browse Offset Umbrellas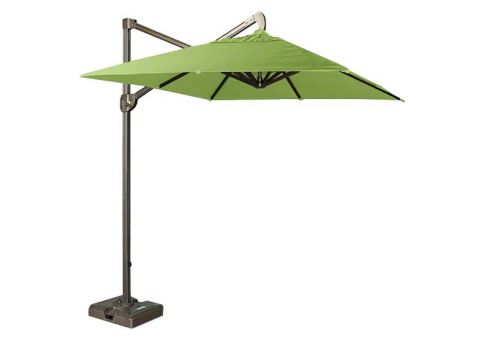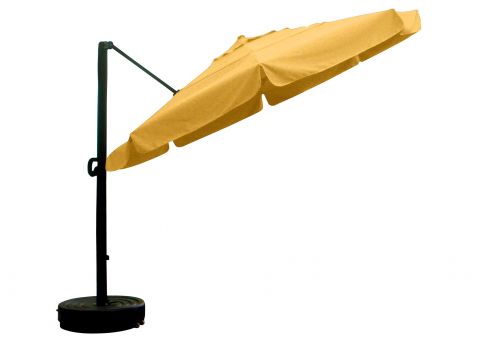 Umbrella Source offers multiple styles of offset umbrellas. These umbrellas are sometimes called cantilever or side post umbrellas.
Commercial Offset Umbrellas
3-year frame warranty
5- to 10-year canopy fabric warranty
360-degree canopy rotation
Sunbrella® solution-dyed acrylic fabric
Multiple fabric choices
Option to choose alternating fabrics
Several base choices (mounting, in-ground and portable)

Residential Offset Umbrellas
1-year frame warranty
5-year canopy fabric warranty
360-degree canopy rotation
Solution-dyed acrylic fabric
Multiple fabric choices
Fill-able base for sturdy support
How can we help you?
Call
800-278-4480
M-F 8:30am - 7:00pm EST