Which Tent is Right for Your Event?
Are you looking for shelter and shade while hosting a family gathering, reunion, company picnic or other event? Pavilions are an excellent choice and showcase a more luxurious look for your event, while pop-up tents or shelters tend to be a simple, but clean look.
Our pavilions are available in multiple sizes ranging from 10 ft. to 16 ft. They feature sturdy aluminum and steel frames, which are engineered for maximum durability. The beige and cocoa colors will accent just about any setting and environment. To prove these pavilions are made with exceptional materials, they feature a 5-10 year limited warranty on the frame and a 2-5 year warranty on the fabric (these warranties change depending on the specific pavilion you select).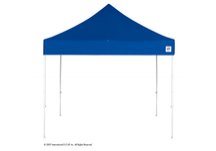 Pop-up tents and shelters are simple styles in sizes from 10 ft. to 16 ft. and normally come in solid colors. A pop-up tent is perfect for vendor displays, small family reunions or company gatherings when the look of the tent is not meant to be a focal point. Our pop-up tents feature a 1-5 year warranty, depending on the specific tent that you select.
Pop-up tents with logos are a great way to promote your business, school or area function! Our pop-up tents are available in a 10 ft. canopy span and with multiple color options. Logos can be placed on the top of the canopy as well as the valances. Submit your logo to us and we do all the work… it's as simple as that!
Shop our Pavilions and Shelters