The Benefits of Commercial Logo Umbrellas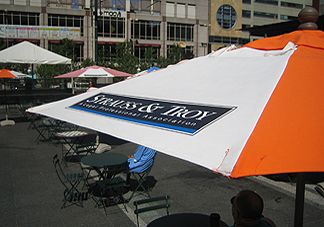 Brand Recognition
Commercial logo umbrellas are a beneficial marketing tool for restaurants and outdoor events. Logos are visual symbols used by companies to establish and authenticate their brand or business. Because establishing a brand requires logo recognition, logo umbrellas provide an idyllic advertising medium. These umbrellas provide businesses with a platform to showcase their logo; therefore, bringing awareness to their brand or company. By displaying your logo, customers will be more likely to remember your company name or product which generates more business.
Logo Consistency
Company logo standards are essential for consistent logo display. At Umbrella Source, we provide precise color matching and printing in accordance to your company's logo color standards. By using the Pantone® Matching System, or PMS, we can ensure your exact colors will be printed. Unlike other companies, we offer two digital imaging printing processes that provide crisp, detailed images. The majority of our logo umbrellas are made using the Sunbrella® Graphics System, or SGS, heat-bonded film application in which printed 3M film is firmly adhered to the umbrella canopy. Another way to print logos is via our inkjet printing. Inkjet printing provides vibrant images that are printed directly onto the umbrella canopy.
Commercial logo umbrellas are perfect for business, brand, and restaurant name exposure. The more people see your logo, the more your company or product will be recognized.