The Digital Imaging Process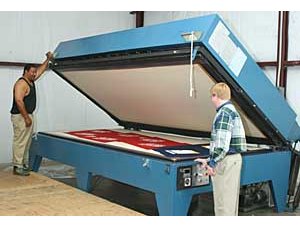 During the production of your logo umbrella, your logo, text or image will be applied onto awning-grade 100% solution-dyed acrylic fabric via your choice of one of our digital imaging processes. At Umbrella Source, we can apply single and multi-color heat-bonded logos as well as full-panel inkjet printed images to your umbrella. Both heat-bonding and inkjet digital imaging printing methods provide logos, graphic designs, and photographs with vivid, eye-catching color.
Our Printing Methods
SGS Heat-Bonded Logo Application
Our most popular logo printing process is our Sunbrella® Graphics System, or SGS heat-bonded application. During the heat-bonding process, your logo image will be digitally printed onto vinyl film in your specified colors. Using SGS, the film is then correctly positioned and thoroughly bonded to the canopy fabric by a vacuum and heat compression system. The heat-bonded logo application is ideal for commercial umbrellas as it creates a flexible, yet durable image with a 3-year warranty.
Inkjet Printing
Our inkjet printing process creates unique umbrellas with entire canopy, full-panel digital images. Unlike our heat-bonded printing, our inkjet printing process prints your logo or image directly onto solid white fabric to ensure precise coloring. For inkjet printing, we offer 10 oz. Sunbrella® Inkjet White awning-grade fabric as well as an 8 oz. polyester fabric. Both fabrics are solid white and feature an ink-receptive coat on one side. It is worth noting that because inkjet printed images are printed on solid white fabric, the printed side will feature the image while the opposite side will remain white. However, you can have your canopy inkjet printed on top with SGS heat-bonded application images on the underside to create a beautiful umbrella unlike any other.
What image format is required for printing?
We only accept vectorized EPS or Adobe Illustrator (AI) files. We cannot accept GIF, JPG, PSD, etc., as these files will not produce a graphic resolution high enough for our printing. However, we will accept GIF, JPG, PSD, etc. files to create your logo umbrella proof only. For more information on submitting logos and images for printing, read our Logo Umbrella Buying Guide: Logos.