Products
(3)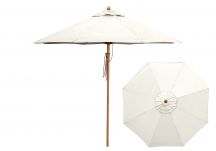 Aluminum Pole
Fiberglass Ribs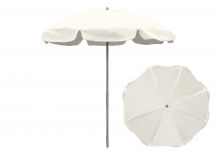 Aluminum Pole
Fiberglass Ribs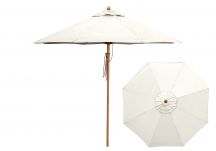 Aluminum Pole
Fiberglass Ribs
Custom printed umbrellas are perfect for indoor or outdoor marketing and brand promotions. Our digital inkjet printing process can print any image on the topside or underside of your entire umbrella canopy. By using the Pantone Matching System® (PMS), we are able to precisely match your desired logo or graphics colors.
For our custom printed umbrellas, we use Sunbrella® Inkjet White which is a 10 oz. awning-grade 100% Sunbrella® acrylic fabric with an inkjet receptive topcoat. This fabric provides outstanding color depth, matching, and detail with a soft, matte finish. Like all Sunbrella® fabrics, Sunbrella® Inkjet White is mildew- and water-resistant. We also offer a lighter weight 8 oz. polyester fabric that features an ink receptive topcoat as well. Images printed on polyester appear more vibrant than acrylic printed images; however, they are more susceptible to scratching and abrasions. The white base of the inkjet receptive layer on our acrylic and polyester fabrics helps improve color management while preventing ink from bleeding through the fabric.
Our inkjet printed umbrellas offer the option to add graphics and text to the opposite side of the canopy via the Sunbrella® Graphics System®, or SGS, which is a heat-bonded application we use for all our logo umbrellas. By choosing an inkjet printed topside with an SGS heat-bond underside, you can construct a beautiful, one-of-a-kind custom umbrella with all-over canopy images. Whether for bold commercial advertising and promotions or to simply display an original design on your restaurant patio, these custom printed umbrellas are sure to stand out above the rest.
For more information on our inkjet printing and SGS heat-bonded image application processes, please check out The Digital Imaging Process or call our sales team at 800.278.4480.