Design Ideas: Adding Umbrellas to Your Outdoor Space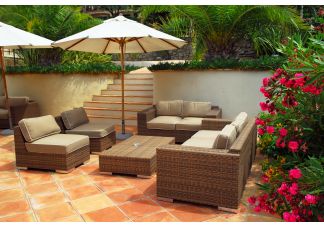 Your outdoor living space should never be a cause of stress, especially when it comes to its design. A great way to heighten interest in your outdoor space is to add visually appealing, yet useful items to your décor. Your outdoor seating area should be relaxing and tranquil, but should also be able to accommodate gatherings of friends and family.
One of the easiest additions to outdoor seating is an umbrella. Umbrellas are convenient for outdoor spaces as they are easy to set up and take down. They can be placed in a variety of places like patios, decks, poolside, and in the garden. Umbrellas provide shade for an abundance of outdoor activities, whether you are entertaining guests or simply reading a book. Also, skin and heat protection are important when spending long hours in the sun.
Not only are umbrellas beneficial in providing shelter, they also look great! One of the most popular designs is the market umbrella. Market umbrellas feature a classic design with a more streamlined appearance. Market and patio umbrellas can be further decorated with the addition of a beautiful umbrella stand. Another great choice is the offset umbrella. Offset umbrellas provide the freedom to place your outdoor furniture as you please without having to question where to put the umbrella.
Outdoor activities are essential to overall well-being. Protect yourself from the damaging heat and sun to further enjoy your outdoor space. Whether you choose a market, patio, or offset umbrella, you are sure to be pleased with your selection.