Fiberglass Umbrellas on the Island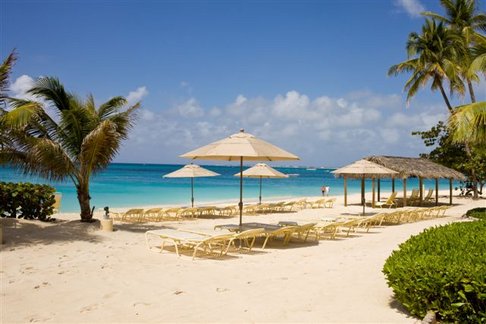 Island life in the Caribbean has its benefits, but one drawback is the often severe tropical weather. The strong winds can wreak havoc on the beautiful settings, including outdoor furniture and umbrellas.
As the property manager of The Meridian oceanfront luxury condominiums on Grand Cayman Island, Lee went through multiple rounds of expensive umbrellas, but the frequent wind gusts, in addition to the saltwater and humidity that The Meridian experiences, were too much for the umbrellas to handle. In fact, Lee purchased umbrellas from several different suppliers over the years, but always ended up with umbrellas that could not withstand the rigors of the harsh environment.
When Lee contacted Umbrella Source, she was somewhat cynical, expecting to spend a large amount of money yet again for umbrellas that may not last one season. However, Umbrella Source was able to tell Lee about umbrellas with fiberglass ribs.
The fiberglass ribs allow the umbrellas to bend and move with the wind, rather than breaking at the first big storm wind. These fiberglass umbrellas also have a crank to open and close, which is great for commercial use, and a double wind vent, which allows more of the wind to escape, rather than getting caught under the umbrella's canopy.
Once Lee experienced the difference of Umbrella Source's fiberglass umbrellas, she was convinced. She purchased 12 of the 7.5-foot fiberglass market umbrellas and four 9-foot models. She chose Sunbrella®'s Dupione Sand fabric to coordinate beautifully with the powder-sand beaches of Grand Cayman Island.
"I have been a property manager for 15 years and have really never had a product this good," Lee said.
What makes fiberglass rib frames unique is their flexibility and give. They can take the abuse of powerful wind gusts, and because they are made from a non-corrosive material commonly used in fishing poles and boats, the salty air and humidity will not cause deterioration. Sunbrella® awning-grade fabric also comes with a 10-year warranty against fading, mold and mildew growth, not to mention protection from harmful UV rays. This is something most property investors look for — quality products that will last.
"Most umbrellas I have had to change within a year or two," Lee said. "These obviously are the best I have ever had."
Grand Cayman Island has experienced the most hurricane strikes in history; at least one hits every year. The island sits largely unprotected at sea level, and it's this low altitude and location in the Caribbean that make the paradise locale very susceptible to tropical systems.
The beautiful Cayman Islands lie in the northwest of the Caribbean Sea, south of Cuba and West of Jamaica. Christopher Columbus was the first to actually site these tranquil Islands in 1503 on his journey to the New World. He called the island Las Tortugas, seeing that sea turtles inhabited the land and shores.
Thanks in part to its resilient umbrellas, The Meridian continues to thrive in tourism. It is located in the heart of fabulous Seven Mile Beach, with a white powder shore, within minutes of fine restaurants, world class spas and duty-free shopping.
Please note: Umbrella Source is unable to ship outside of the United States. However, we can ship to a freight forwarder, who can ship to your location.
For more information about the Meridian, go to www.meridian.ky