Market Umbrellas for Resorts - Dominion Club, VA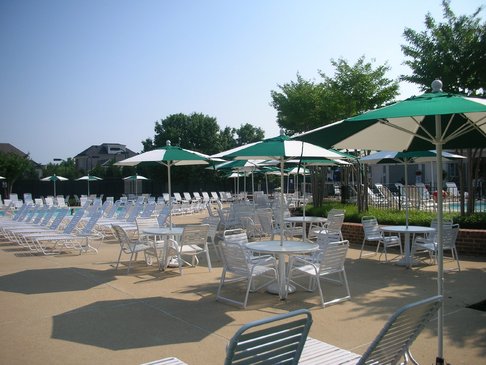 Sean McLaren, general manager of The Dominion Club in Glen Allen, Va., had been looking to replace some outdoor umbrellas that covered tables surrounding the pool area. After shopping around, he purchased 30 of Umbrella Source's Fiberglass Market Umbrellas. While shopping and since using the umbrellas, Sean calls Umbrella Source's offering a "superior product."
Superior indeed! These umbrellas are one of the strongest on the market today. The fiberglass is similar to the material used in fishing rods and boat liners; it is non-corrosive to salt and wind and is incredibly flexible in high wind situations.
While a great quality umbrella frame is vital when you are searching for a good investment, so too is the fabric you select. Sean chose Sunbrella® fabric in Forest Green alternating with Natural along with white hand poles to match the club's previous outdoor furniture and awnings.
Sunbrella awning-grade fabric features a 10-year warranty against fading, staining and the growth of mold and mildew. It also was given the highest recommendation by The Skin Cancer Foundation for its ability to block harmful UVA and UVB rays. Sunbrella® fabrics are beautiful as well and can add pizzazz to any outdoor area without compromising your design aesthetic. You have many color options as well as digital imaging for promotional applications.
The umbrellas look perfect! Classy, sophisticated umbrellas added a wonderful touch to The Dominion Club's charm, and Sean considers his purchase to be a great investment for The Dominion Club's members to enjoy for years to come.
For info about The Dominion Club visit tdcva.com
Country clubs have the reputation for featuring immaculate landscaping, stunning views and extensive year round activities for their members. The Dominion Club is definitely no exception. Located in Glen Allen, Va., just north of of Richmond, this private country club has one of the most visually stimulating and challenging golf courses in the Mid-Atlantic region.
Sean McLaren has been the General Manager for the last two years and has enjoyed seeing a growth in membership. "The feature that attracted me and keeps me growing is the membership," he said. "This community of members is the best. They support the programs and are willing to try everything I can develop. They sponsor fellow neighbors for membership, expressed clearly as we conclude a 90-day membership campaign which added 127 to our numbers."
Here at The Dominion Club, being an exclusive member has its perks. Among the many activities that you'll find at The Dominion Club is golf which is played on a course designed by Curtis Strange, a two-time U.S. Open Champion and former Ryder Cup Captain. The 28,000 square foot clubhouse includes spaces reserved for special events including- The Rotunda, the Mixed Grille, the Players Lounge and the Golf Pro Shop. Many events are planned throughout the year that caters to kids, from toddlers to teens. They stay busy with a full calendar of activities, such as the Kids Club, summer camps, sports clinics, swimming lessons and the club even has their own children's swim team while members enjoy an Junior Olympic sized swimming pool.