Umbrellas for Windy Conditions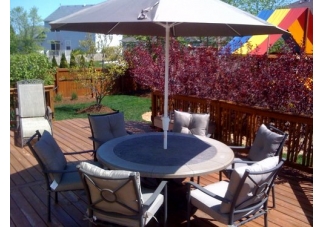 Aurora, Ill., is the second largest city in state of Illinois. In 1881, it was one of the first cities to have an all-electric street lighting system which gave the town its nickname "The City of Lights." One of the city's land marks is the Paramount Theater which was built in 1931. Originally, it was home to theater plays and musicals. Now it serves as a school for performing arts and other programs.
For this resident, and Umbrella Source customer, Aurora is home. One of the ways she gets to relax is in her back patio area; a great place to enjoy the warm weather during the spring and summer months.
She purchased this striking 9-foot Aluminum Market Umbrella to spruce up her back patio. She chose a beautiful taupe colored awning made with Sunbrella outdoor fabrics, and an aluminum frame made with fiberglass ribs. Although market umbrellas are primarily used in commercial settings, people are finding these are just as practical for residential use. Fiberglass ribs are a wonderful feature for those who live in windy locations. The ribs are flexible yet strong and durable in bad weather.
She wanted to add further comfort to her patio set by adding these comfy seat cushions made with the same high-performance outdoor fabrics as what are on the umbrella. Choosing to stay with a monochromatic color scheme rather than adding contrast with throw pillows and bolster pillows gives a very clean and sophisticated look.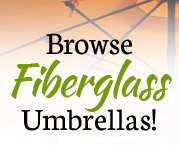 Although, if she wanted to make her furniture more spicy and festive for evening entertainment she could add a pop of Spectrum Sierra, Wheat or Canvas Black paired with Foster Classic, a striped fabric. There are virtually no limits on fabric color or pattern with Sunbrella. With easy care instructions, these high-performance fabrics will last up to 5 years and come with a fade-free and mildew-free guarantee.
Whatever you will be doing this summer, enjoy your outdoor space by adding a touch of luxury with new patio accessories. This will make staying at home seem like a private vacation every day.