Wind-Resistant Fiberglass Umbrellas in the Backyard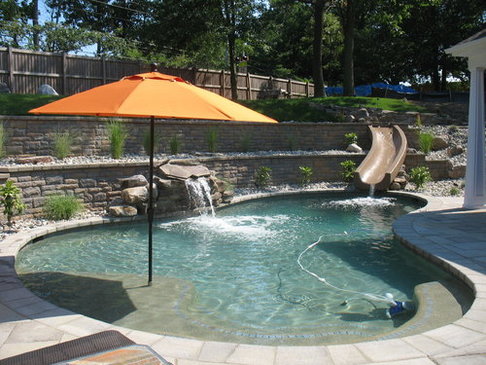 Providing shade around his backyard pool area was a high priority for one homeowner in Annapolis, Md. Living in a hot but windy area, this homeowner knew that not just any umbrella would stand up to the coastal weather.
"We wanted a quality Sunbrella® fabric umbrella with a high degree of resistance to wind damage," he told us.
This led the homeowner to purchase a 9' fiberglass market umbrella made with durable Sunbrella fabric. He made the right choice. Umbrella Source's fiberglass umbrellas are very conducive in high wind areas because they are flexible and made of a non-corrosive material. Like the material put into fishing poles and boats, these fiberglass umbrellas bend and give in heavy wind situations.
One evening, our homeowner's fiberglass umbrella was put to the test.
"We had a pretty severe storm recently that toppled some large trees nearby," he said. "I'd estimate the winds were at least 40 miles per hour. We'd forgotten to close the umbrella, but once the storm started we didn't want to take the chance of going outside and getting hit by lightning, so we left the umbrella up. We watched the umbrella swap and flex in the heavy winds, just as it should. The umbrella survived with no damage!"
When you can actually see how strong and resilient these fiberglass umbrellas are, you become proud of your purchase and feel confident to recommend it to others.
In addition to wind-resistance, the homeowner's choice of location for his umbrella drove his purchase decision. Not only did he want to provide shade to his backyard, but he also wanted to shade an area inside the pool. This idea required specific mounting equipment for his umbrella.
"Our pool is saltwater, so we needed a stainless steel mounting mechanism to have the umbrella mounted in the pool. We purchased the stainless steel pieces from Umbrella Source. In fact, it was a web search for the stainless steel hardware that ultimately led me to Umbrella Source," he said. "The combination of color choices in the Sunbrella® fabric, along with the choices in hardware color and configuration also helped make it an easy choice."
Ultimately, he chose a black frame and Sunbrella® Tuscan fabric for his backyard umbrella. Choosing Sunbrella® fabric is the wisest decision anyone can make. You not only get oodles of color options but you are given a 10-year warranty against fading, mold and mildew on awning-grade Sunbrella® fabrics.
Another benefit of Sunbrella® that you may not know about is its ability to filter out the sun's harsh rays. In fact, The Skin Cancer Foundation gave its Seal of Recommendation to this fabric brand for its ability to block out considerable amounts of harmful UV rays. With all the worries of skin cancer, it's good to know there are products available to give you peace of mind.
This homeowner was so pleased with his pool umbrella that he decided to purchase another for his pool deck. He came back to Umbrella Source for the selection, reliability and customer service.
"It's nice to call a reputable source and have a custom umbrella made to order, versus depending on what happens to be in stock year over year at the local department store. We plan to purchase a third one next year, for another area of our house."
If you are looking for quality made products, custom is really the only way to go. For this homeowner, he wanted the best investment for his family, and he found it at Umbrella Source.