How to Fill an Umbrella Base with Concrete
The following are instructions on filling our 90-pound fiberglass umbrella stand with concrete.
It is important to note that all umbrella stands models are different. When you purchase a fill-able umbrella stand from Umbrella Source, instructions for your specific umbrella stand will be included with shipment. However, these instructions are provided as a basic guideline.
PARTS INCLUDED:
1 Aluminum Sleeve
2 Concrete Anchor Bolts
1 3/16" Screw Pin with Nut
TOOLS REQUIRED:
80-lb Bag of High-Density Concrete
5-Gallon Bucket
Drill & 3/16 drill bit
STEP-BY-STEP INSTRUCTIONS:
Remove umbrella base and parts from box. Do not remove cardboard protector on base sleeve.
Place umbrella base upside-down on the 5-gallon bucket (Figure 1).
Place concrete anchor bolts provided into sleeve, making sure nut is at the top with the washer below. NOTE: DO NOT REMOVE CARDBOARD FROM SLEEVE.
Affix the anchor bolts with nut to the sleeve. Allow the washer to fall down to the bottom part of the bolt for the best anchoring results. (Figure 2).
Insert aluminum sleeve (with the cardboard still attached) into hole provided so that the rectangular plate sits flush against the hole. The cardboard will help prevent the concrete from reaching the bolts (Figure 3).
Mix concrete according to directions on bag. For best results, use crack-resistant 5000 PSI concrete.
Pour mixed concrete into base, except inside area protected by the cardboard. Distribute evenly until it is flush with the bottom lip of the umbrella base.
Let the base set, in the present position, until the time specified on bag of concrete.
After concrete has set, tighten up the nut anchoring the base plate, and remove cardboard strip.
Turn base right side up and insert the bottom pole of the umbrella.
Using drill and drill bit, drill hole into umbrella pole through existing hole in aluminum sleeve (Figure 4) and secure pole with screw pin and nut (Figure 5).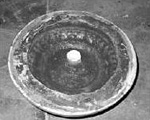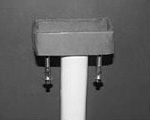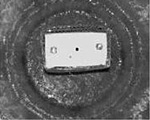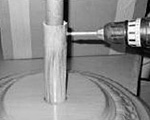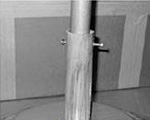 These instructions are provided as a basic guide, but if these instructions conflict with the instructions you receive with your order, you should follow the shipped, printed instructions. Also, some fill-able umbrella stands can or should be filled with sand or gravel, rather than concrete; while others should only use concrete.
If you have questions about filling a specific umbrella stand, please contact us. We'll be glad to help.
How can we help you?
Call
800-278-4480
M-F 8:30am - 7:00pm EST